close
SHOWREEL

VIRGIN MEDIA BOLT TVC

C4D cel-shaded Usain Bolt running around a 3D town, looking at stuff. And heading a football.
My involvement: Production, Co-Direction
RUSSEL THE ROBOT

A personal project, playing with character rigging, cel motion type overlays and deformers in Cinema4d. Sound fx with a hand fan, camera lens, and synths plus my computerized voice. Shot in Olympic Park, London.
My involvement: Production, Direction
DE BEERS COLOURS OF ROMANCE

Valentines ballet for De Beers Jewellery social campaign. Animated in C4D with Arnold render.
My involvement: Direction, Production
PICCADILLY CIRCUS WIZARD

A self-led piece, I wanted to combine camera tracking with cel animation.
Back in April 2020 I shot an empty Piccadilly Circus, tracked the footage, added a character that I had created a few years back, simulated some smoke, and hand animated the cel magic spell overlays.
Inspired by the film Into The Spider-verse, I also wanted to inject some comic-book style, which kicks in when the wizard unleashes his spell. For this I made a custom shader in Blender for the character and used Trapcode Form for the half-tone effect.
Made with Blender, Cinema 4D, Animate and After Effects.
My involvement: Direction, Production
MY AUDI

A Tron-esque parade of the features of Audi's phone app. Use of X-Particles and C4D's Sketch shader.
My involvement: Production, Co-Direction
DANCING MAN

An exercise in character design and animation.
I modelled him in Blender, then rigged and animated him in C4D, along with the materials and hair. Rendered with C4D's Physical Renderer.
My involvement: Direction, Production
ACRU

Acru is a new form of money from the world of trading.
This film introduces Acru and explains what is is, using a character whose form is the first letter of the logo.
He travels through various stock footage clips and other environments that I generated in CG.
Pretty much all the scenes were done in 3D using Cinema 4D, and stock footage clips were camera and object tracked.
Because of his limitations (no hands, arms or any facial features!), a lot of work was needed to express his character through animating his actions.
For this project I studied and endeavored to apply the '12 basic principles of animation' that were introduced by Disney, so that the character had a fluid, traditional and human feel, even though it was made with software.
My involvement: Production
BANANA!

A personal project, because... well, I like bananas.
My involvement: Production, Direction
COSTA CAFE ILLUSTRATIONS

From static illustrations, I animated this series of social ads for Costa / BBH.
I redrew the illustrations in After Effects, so that I was able to animate the characters and give the line a 'wobble' akin to traditional hand-drawn animation.
My involvement: Production
THE MAYFAIR HOTEL

Take a tour around a dolls-house version of the Mayfair Hotel. Made proudly with Blender. Try out the interactive version.
My involvement: Production, Co-Direction
UBER A to B

I brought to life the illustration by Tom Haugomat. Mainly done by animating shapes in AfterEffects.
My involvement: Production
Landscape DOOH

Portrait DOOH

TESCO HALLOWEEN 2020

The hands were rigged and modified in C4D; holes in ground were generated via Veroni fracture.
Products were modelled - some using projection mapping techniques to match the retouched studio photos.
My involvement: Production
WESTERN UNION SURFER

All done in C4D, the character was rigged using spline dynamics and built with sweeps. The volume mesher was used to bind the sweeps together.
My involvement: Production
PEDRINO

An offshoot from my work for Pedrino, an alcoholic spritz. All done in Blender / Cycles, apart from the table caustics which I rendered with LuxCore and brought back in as a baked texture.
My involvement: Production, Direction
MICROSOFT VISIO

Promotional video for Microsoft Visio, to show how the software can help streamline a business.
My involvement: Production, Direction
BA GATWICK INFO SCREENS

Bringing to life illustrations by Serge Seidlitz, this was screened around the check-in desks at Gatwick airport.
My involvement: Co-Production
Walk Cycles

LINGUAVOTE

Made for my brother's start-up, an English learning social media website.
My involvement: Production, Direction
FIDELITY LIVE INVESTMENTS

A conference video to introduce Fidelity's electrifying fund managers. Made with Trapcode effects.
My involvement: Prooduction, Co-Direction
MICROSOFT HOME USE PROGRAM

Elmer and Brad the cat (originally illustrated by Thin Martian colleague Pete Moores), embark on a Microsoft Office fuelled adventure away from the office.
My involvement: Production, Co-Direction
VIRGIN MEDIA CABLE

I have created a few 3D assets for Virgin Media, which have been used across print, web and TV. These include the cable, Glass display boxes and their V6 Box.
My involvement: Production
TV ad - Jan 2019

Cable with ribbon

TV ad - May 2018

Cable Outdoor Ad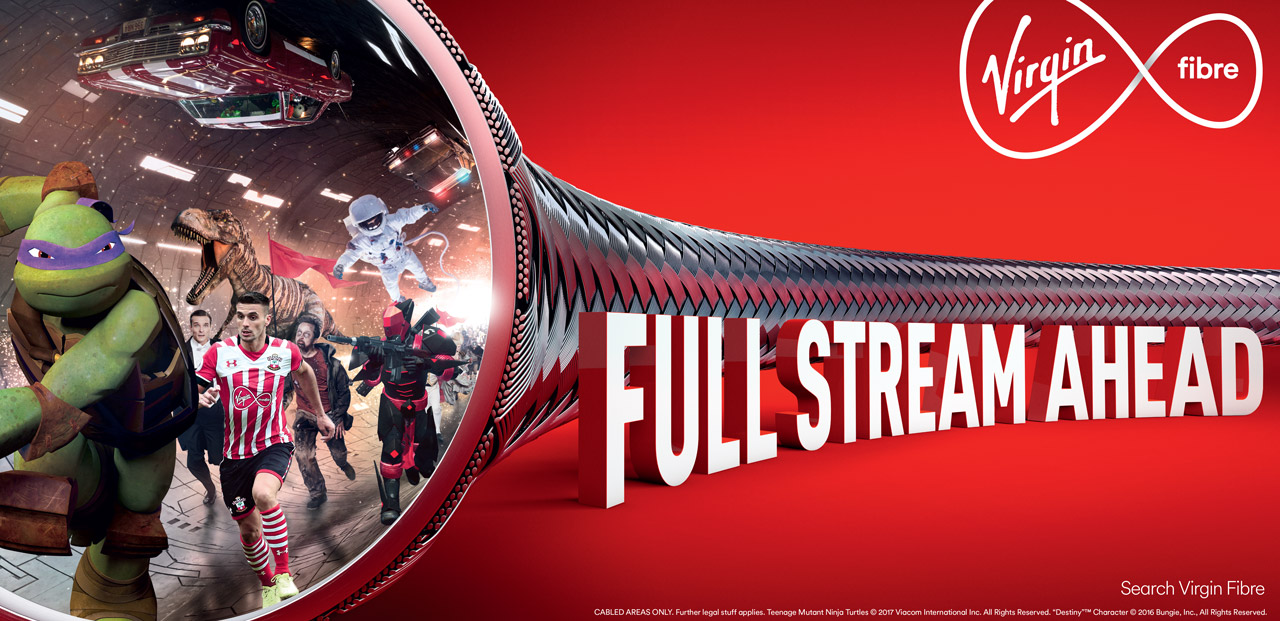 Lightboxes Press Ad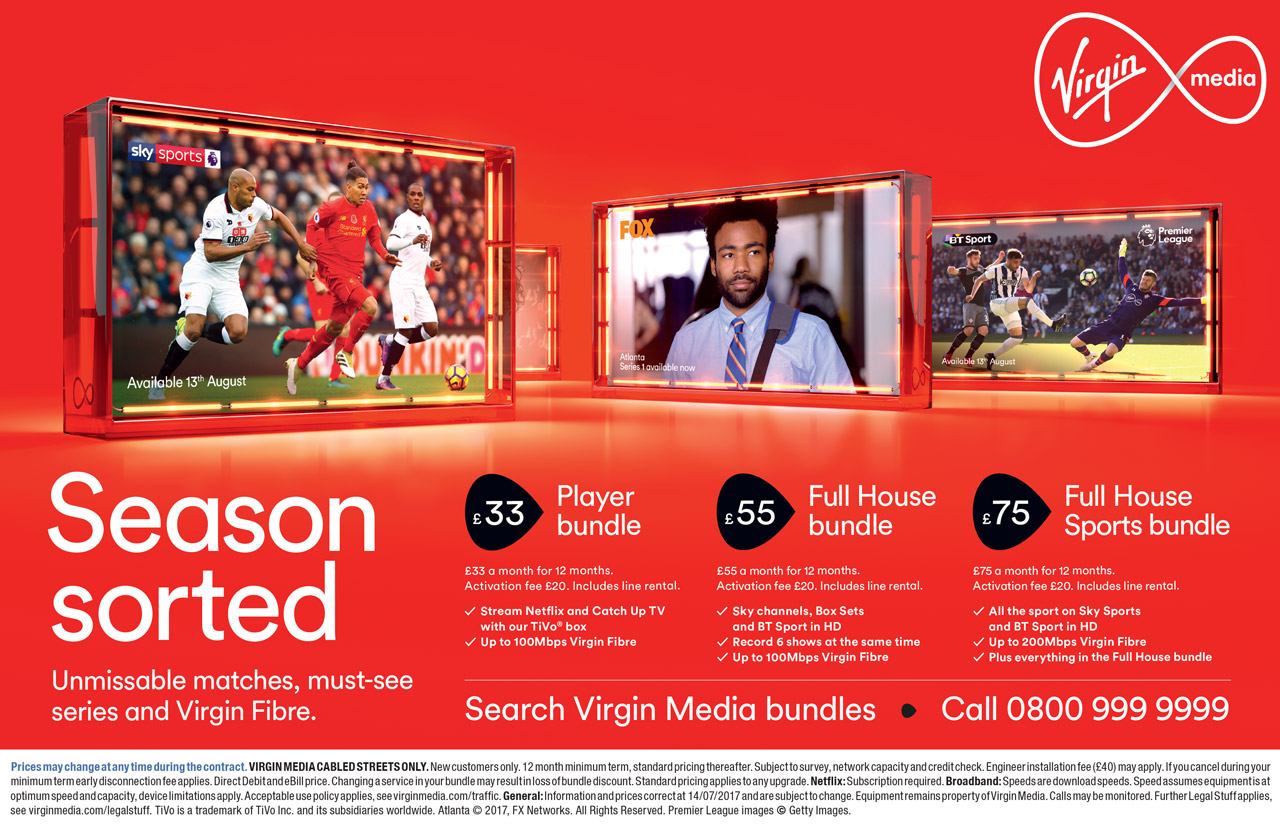 AUDI Q7

From the raw footage, I worked on all the CG and retouch for this project through to delivery.
The floor and ceiling were CG elements that were combined with the car footage.
The headlight flares (and dust) were also fabricated.
The footage was panned manually and so very wobbly and needed to be stabilized. Camera tracking was done first, and I used a CG model of the car for the matte, and also the headlights which were different from the footage.
Various elements of the car needed to be retouched, including a black line right down the middle – a reflection of a seam in the light-box above it.
My involvement: Production

TESCO MOBILE FRIDGE PHONE

A campaign that ran across social, DOOH and YouTube, the brief was to replace a refrigerator door with a CG phone.
I designed and modelled the phone; materials, lighting and environment were all done in Arnold / C4D. The footage of the opening fridge door was matched in After Effects using a combination of warping and time re-mapping. In the end, the atmosphere was done in AfterEffects with use of Particular.
My involvement: Production
KFC SUPERCHARGER

CG spicy sauce bottle with electric atmosphere
My involvement: Production
Social Ads - 3 stages

KFC COOK OFF

A social campaign for KFC at the beginning of the Coronavirus lock-down, where celebrities were filmed doing a cooking competition against each other.
This clip shows the teaser animation advertising the show, then the winner announcement, both shown on social media.
Made in After Effects apart from the confetti and some of the 'kinetic' type which I did in C4D using the excellent gelatine deformer.
I also did the sound fx.
My involvement: Production
My telephone number:
+44 (0)7879 401476